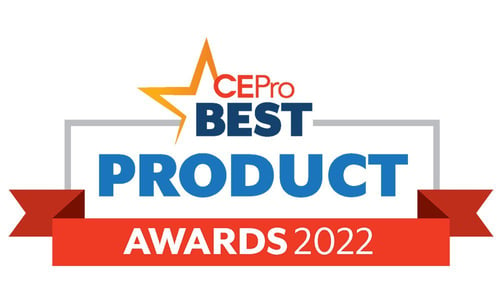 Eyeon's Jonathan and Adolph were in attendance for this years Cedia Expo and got to see many of the top products in action. It was great to train and get info on the latest products from Savant as well as meet with all the manufactures that provide products for your home. Eyeon is proud to offer a wide range of "Technology To Match Your Lifestyle"!
The winners of the annual CE Pro BEST Awards have been announced during CEDIA 2022. See this year's list of top AV products.
The CE Pro BEST (Best Electronic Systems Technologies) Awards "offer an incredible glimpse into the future for the entire residential integration industry," says Jason Knott, editor-in-chief of CE Pro.
"Some of the products and technologies that integrators now consider mainstays to their businesses made their first appearance in the market via the BEST Awards.
All entries were judged on innovation, functionality, competitive advantages and benefits to the installer by industry leaders, along with the editors of CE Pro.
Here are this year's CE Pro BEST Award winners:
AV-over-IP Switchers
MaxColor Series
Architectural Speakers over $1,000
MOS36 – Minimal Opening System 36
Architectural Speakers Under $1000
Pro Series Wi-Fi Multiroom Ceiling Speaker
Outdoor Speakers
LuminSound Bollard
Business and Software Design Tools
Modus-as-a-Service
Cables and Cabling Products
Sonos In-Wall Power Solution
Communications Products
Savant Intercom Service
Energy Management
Aidoo Pro Inverter/VRF Controller
Flat Panel TV/Ultra HD TV
The Frame with its new matte finish
Floorstanding Speakers
Meridian DSP8000 XE Digital Active Speaker
Bookshelf Speaker
Alpha iQ
HDMI/HD-BaseT Extenders
Evolution by Vanco
Home Networking Device
Network AI
Home Theater AV Receivers and Source Components
DRX-3.4 9.2-Channel Network AV Receiver
Integrated Security System, Device or Surveillance Camera
Encode Plus Smart Wi-Fi Deadbolt
Lighting Controls
RadioRA 3
Lighting Fixture
SRP RGBW Strip Light + SRP-CC Color Controller
Media Servers/Streaming Media/DVR
Terra 88TB Movie Server
Most Promising
Two winners: Spatial technology from Spatial & Video Camera Insert from Swidget
Motorized Shade Controls and Accessories
PowerView Gen 3 Automation
Mount, Lift or Media Concealment
Recessed Wall Mounts for Sonos Soundbars
Multiroom AV Components
Victrola Stream Carbon
Object-Based Surround Component
SR-28212ai
Peripherals and Enhancements
Power Packs
Power Management, Generation, Surge Suppression and Storage
Nexsys
Projection Screen
Tensioned Advantage with SightLine
Projector
VPL-XW7000ES
Racks, furniture, seating, and acoustical treatments
Area Collection
Soundbar, On-wall or Single-Chassis loudspeaker
HT-A7000
Tools, Testing and Calibration
Untwist Tool
User Interfaces
One Pro
Wellness
Swidget
Whole-House Controls
Elan ITP-12 with 8.7 Upgrade
Wireless AV Solution
Platin Audio Monaco 5.1.2 with WiSA SoundSend
Platin Audio and WiSA Technologies
Credit to CePro for the information