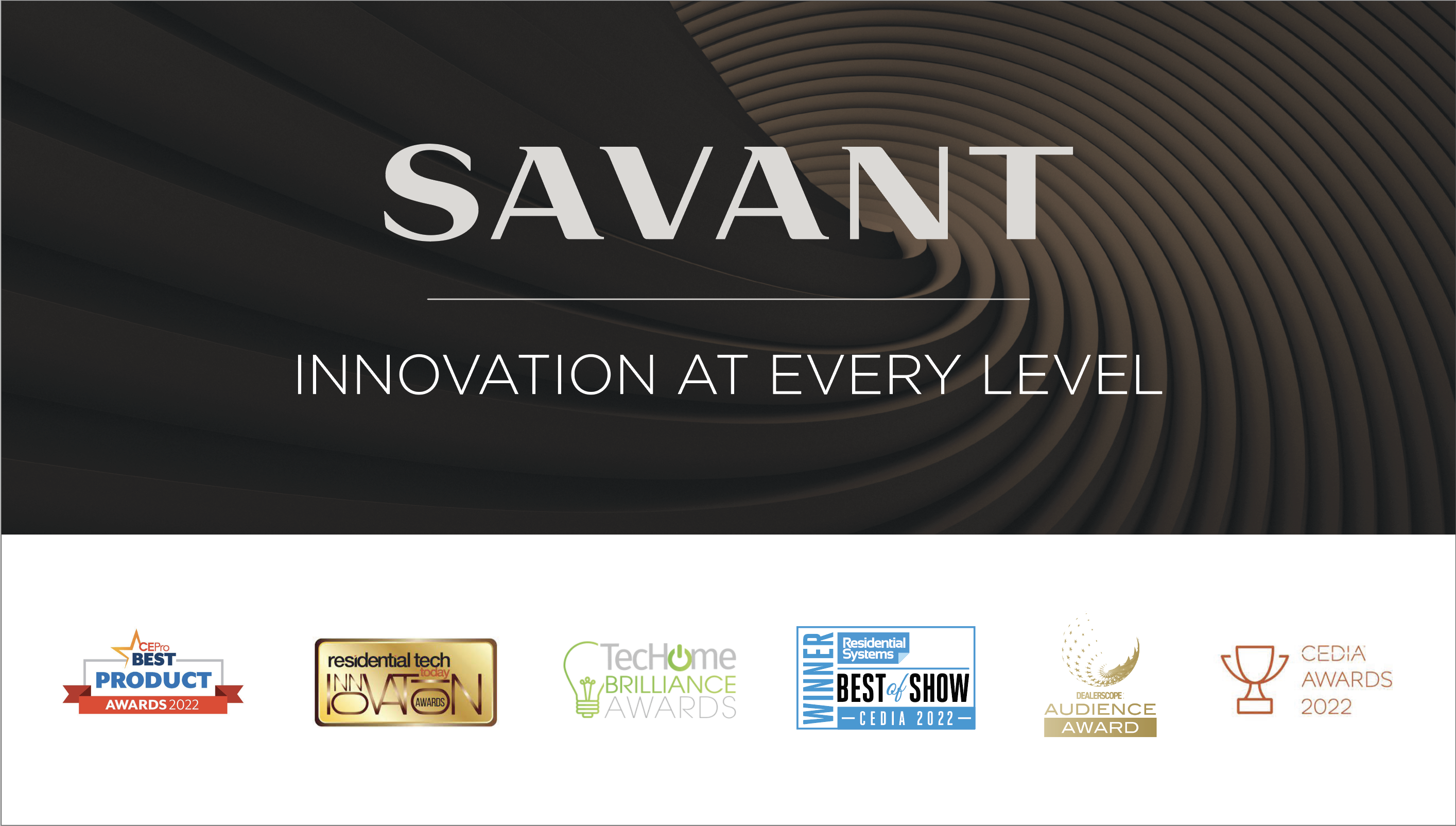 Check out Savant's latest accomplishments. There's a reason why Eyeon chooses Savant as it's leading Smart Home Control System. Call Eyeon today to see how one of Savant's Award Winning products can help make your life easier. Let us know your needs and we will find the "Technology To Match Your Lifestyle"!
Industry Leaders Recognize Savant innovation
This fall, Savant was honored to received the highest recognition given to products and software across our industry. These awards acknowledge both our internal teams and our integrator partners who work together to design, develop and test smart solutions that push the limits and deliver unique value and solutions to our collective clients.

Savant Fall 2022 Awards include:
2022 CEDIA Award, Savant Smart Networking
​2022 Residential Tech Today Innovation Award, Savant Smart Networking

2022 CEDIA Award, Savant Power System, Storage Solutions
2022 CE Pro BEST Award, Savant Power System, Storage Solutions

2022 CE Pro BEST Award, Savant Intercom Service

2022 Residential Systems Best of Show Award, Savant Home Backup & Restore

2022 TecHome Brilliance Award, all-new Cync full-color downlights
2022 Dealerscope Audience Award, all-new Cync full-color downlights
WINNER: Savant Smart Networking
Savant Smart Networking is delivered in partnership with Juniper Networks, a global leader in professional networking, and is designed to deliver custom integrators access to cutting edge enterprise-grade networking solutions that are easy to design, deploy and troubleshoot.

WINNER: Savant Power System, Storage Solutions
​The Savant Power System delivers the ultimate energy management solution. Savant's advanced automated software platform and intuitive app-based user experience make it easy to monitor and control every circuit, optimizing efficiency and reducing costs without compromising comfort and convenience. By combining onsite energy generation, integrated battery storage, generator control, flexible load management, and now powerful EV charging, the Savant Power System delivers complete control of energy assets with the security of grid independence.

WINNER: Savant Intercom Service
The Savant Intercom Service delivers room-to-room communication throughout the home without the need for dedicated intercom server hardware. The Savant Intercom Service can be added to any Savant smart home with a Savant smart home subscription and is fully customizable to the needs of each client. Savant's new intercom feature is a perfect example of how software as a service (SaaS) has redefined the smart home value proposition for both clients and integrators.

WINNER: Savant Home Backup & Restore
Savant's Home Backup & Restore feature leverages secure cloud-based capability to store key parameters and settings of the smart home so that when hardware is upgraded, user-preferences, photos, scenes, and more are effortlessly restored from the cloud – all using the Savant Pro app. This feature is the first of its kind for the smart home and offers significant peace of mind for integrators who can be hesitant to upgrade client hardware for fear of redundant and costly programming time, just to restore existing features and homeowner personalizations.

WINNER: Cync Full Color Downlights
Cync Full Color Smart LED Downlights are part of a growing family of smart solutions from GE Lighting, a Savant company. Cync downlight fixtures are available in two sizes (4-inch and 6-inch) and support the full-color spectrum with 16-million vibrant colors. Each fixture is ultra-slim (just .125" below ceiling) thanks to a remote junction box and are easy to install.
Source:Savant.com