In this Spotlight we feature another great product from Monitor Audio, Cinergy. If you want a true THX cinema in your home look no further. Eyeon will be happy to have one of our knowledgeable Home Cinema Experts build a system that will rival or beat most theaters. Although the article is for installers, at Eyeon we believe the installation is what sets us apart and we want our customers to understand what makes their purchase so special. Eyeon Integrated Systems is a proud distributor of Monitor Audio and we carry and install their entire product line. We can't wait to assist in your Home Theater build.

The Ultimate Home Cinema Experience
Cinergy is a new THX® Ultra Certified cinema audio system that puts installers center stage, combining unparalleled installation versatility with uncompromising sound quality for the ultimate cinematic experience.
With Monitor Audio's most advanced audio technologies, superior isolation methods and an installation focused design, Cinergy sets a whole new standard for home cinema that's unheard of, until now.
The line-up includes Cinergy 100, 200, 300 and Sub15 – all of which incorporate a range of innovative features to achieve effortless performance and bring cinema perfection home.
Advantages of Cinergy
Advanced Driver Technology
Using Micro Pleated Diaphragm (MPD) technology, the transducer on Cinergy acts like a super-fast accordion, squeezing the pleats to produce accurate and lifelike sounds without immersion breaking distortion. The mid-range and bass drivers use C-CAM cone material with Rigid Diaphragm Technology (RDT II). This technology reduces distortion by over 8 dB above 300 Hz, which makes RDT II the lowest distortion cone technology in Monitor Audio's history.
Designed With The Installer In Mind
The highly adaptable system has been designed with the knowledge that no two installations are the same. Built to provide installers with an ease of use they have never experienced before, features include a modular design that rotates when required, allowing the user to easily adapt to a horizontal or vertical install. Along with integrated handles to make life easier, Cinergy features handy feet and bracket isolators to reduce vibrations. Flexible options allow for integration into stud walls, fitting onto walls or securing to the floor.
Cinergy's design allows for limitless combinations and can be fitted together to form a whole sound wall. The Cinergy Sub15 is designed to be half the height of the Cinergy 300 making them stackable for use in a sound wall.
Rotating Mid-Tweeter Array
Installers can easily rotate the mid-tweeter array on the Cinergy 100, 200 and 300, depending on whether they are vertically or horizontally installing the product. Cinergy also offers a swappable mid-tweeter pod to allow for the best of tailor-made systems. Intelligent design innovation also means that the mid-tweeter pod can be interchanged with the bass drivers on the Cinergy 300.
THX® Certifed Ultra Mark
Installers can have the utmost confidence in Cinergy thanks to the THX® Certified Ultra mark – a gold standard for audio and visual fidelity. Globally recognised, achieving THX® Certification assures installers and their customers that Cinergy will deliver an ultimate cinema audio experience. This does not simply mean a set of measurements done on a computer or in a lab as THX Certification is done using the dynamics of real-world listening.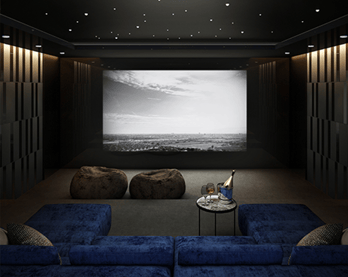 Credit to CePro for the information