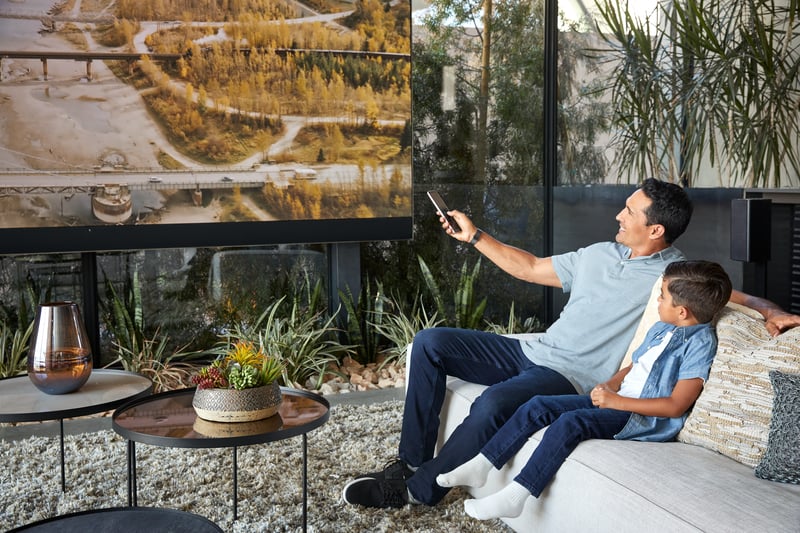 Eyeon is proud to continue to offer Savant's award winning experience to our customers. Often we get asked about smart home integration and Savant is always our go to service for many reasons. Here are just a few reasons to integrate Savant into your Smart Home.
Eyeon Integrated Systems is a Savant dealer in Houston Texas. We service the greater Houston area and would love to help you with your Smart Home project. From Smart Home integration, to Audio, Video, Security and Home Surveillance needs. Let Eyeon find the Technology To Match Your Lifestyle!!
Control and One Remote Access
As a leader in Home Automation the Savant remote and mobile app are all you need to operate your smart home system and connected devices in your home. With the ease of one button you can change lighting, temperature, audio, video and more straight from your phone.
The Savant Pro mobile app works anywhere and allows you to control all of your devices. Out Late? Turn on your front porch and hallway lights for when you come home. Disarm your alarm and unlock your door before leaving your car from your latest shopping spree, or even set the lighting and music for a romantic evening.
Custom Scenes
Scenes are what really make a Smart Home system like Savant worth having. Creating custom scenes is easy in Savant. They don't require return trips from your integrator, they're easy to create for anyone.
One button can turn off all the interior lights, lock the doors, turn on the exterior lights and arm your alarm system. Another button can start your whole home audio system, dim the lights and change the temperature on your thermostat.
The options are endless !
Plays well with other products
Savant supports thousands of your favorite third party products. Have an AppleTV? You can even control all your Savant connected equipment and scenes directly from an Apple TV on your new big screen.
Plays well with the whole family
Savant allows for different profiles. We know everyone has their own unique routines. Savant is ready to accommodate all the differences of family members by allowing each person their own account for their personalized favorites and scenes.
Guests can even have their own account with your permission so they can have access while in town. No handing out keys or sharing your password. Let Savant make things easy.
Call Eyeon for your Savant integrated Smart Home
When we say "Technology To Match Your Lifestyle" we mean it!! Our experienced Design Consultants listen to your needs and come up with a plan to integrate technology to make your life easy. We don't just tell you what's cool and what we like, we listed to what you need and want to design a system that works for your family.
Call us at 713-460-8662 when you're ready to discuss how Savant is going to work for you!